21 Day Fix
Simple Fitness. Simple Eating. Fast Results.
What is the 21 Day Fix?
21 Day Fix is THE program to help you lose up to 15 pounds in 21 days. This is Beachbody's first program to place equal emphasis on the nutrition and fitness component. Each workout is approximately 30 minutes a day, 7 days a week.  The unique nutrition plan uses specifically portioned food storage containers that eliminate the guesswork from portion control – no weighing, measuring, or counting calories, carbs or points. If it fits in the container, you can eat it. And you'll lose weight.  When eaten in the right quantities, there are no foods that are off limits.
Why is the 21 Day Fix Nutrition Plan So Simple?
The plan is no weighing, measuring, or counting calories, carbs or points. If it fits in the container, you can eat it. You will use color coded containers to teach yourself how to properly eat with the correct portions. No guesswork. All you do is use your weight to calculate a window of calories, and then the plan gives you a number of each color container you will use during the day. You will be provided with a list of healthy choices for each colored container. Choose from this list, fill the correct colored container, and mix the different colors to make your meal.
Who is the trainer?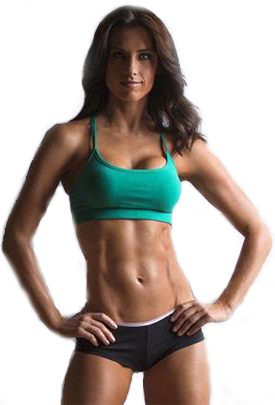 Autumn Calabrese
Autumn is a fitness competitor and model. She has been known for her healthy pregnancy workouts and blog contributions over at ModernMom.com. She is also the founder of Mighty Mommies Fitness. As well as being a bikini competitor, she is a certified personal trainer. She is also certified in spin classes and kettle bell classes. She has also trained celebrities such as Rachel Zoe, Brooke Burke, and Tom Bergeron.
She has also been featured in LA Parent, Daily Candy, C Magazine, and The Palisadian Post
Autumn designed this program specifically for the following. This is a direct quote from her,
My goal is to show women that you can have it all, be a great mom, business woman, significant other…whatever it is you want we are here to inspire you through health and well being. – Autumn Calabrese via Mighty Mommies Fitness
This program is not just designed for mom, or women. It can be done by men and women of all backgrounds. The key point is her nutrition and making life long changes to how you eat. This is about relearning how to eat, as well as incorporating fitness to give you the complete package.
Take a Quick Peek
Contact Me For More Information