Chicken Sausage and Leek Soup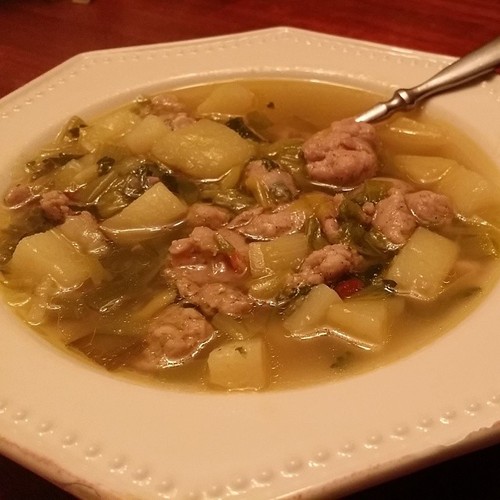 Tonight for dinner my wife decided to make a Leek and Sausage Soup for dinner. The flavor was absolutely amazing. It was light, but filling. It was 186 calories for one serving. I never thought Chicken Sausage would taste so good. After years of eating Italian Sausage, I might convert over to Chicken Sausage. The flavor was absolutely stunning.
So what is the recipe?
Total Preparation Time: 28 min.
Prep Time: 10 min.
Cooking Time: 18 min.
Yield: 8 servings, about 2/3 cup each
Ingredients:
2 tsp. olive oil
4 medium leeks, washed thoroughly, chopped
4 cups low-sodium organic chicken broth
4 medium Yukon Gold potatoes, peeled, cut into ½-inch cubes
1 lb. cooked spicy chicken sausage, crumbled
12 fresh Italian parsley sprigs, chopped
Sea salt and ground black pepper (to taste; optional)
Preparation:
1. Heat oil in medium saucepan over medium-high heat.
2. Add leeks; cook, stirring frequently, for 4 to 5 minutes, or until soft.
3. Add broth and potatoes. Bring to a boil. Reduce heat to medium; cook at a gentle boil for 8 to 10 minutes, or until potatoes are tender crisp.
4. Add sausage and parsley; cook for 2 to 3 minutes, or until potatoes are soft.
5. Season with salt and pepper if desired; mix well.
Nutritional Information (per serving):
Calories: 186
Fat: 7 g
Saturated Fat: 2 g
Cholesterol: 46 mg
Sodium: 408 mg
Carbohydrate: 19 g
Fiber: 1 g
Sugar: 1 g
Protein: 14 g
P90X/P90X2 Portions (per serving)
½ carbohydrates/legumes and tubers
1 protein
Body Beast Portions (per serving)
1 starch
2 proteins
1 vegetable
I found this recipe through Team Beachbody. The direct link can be found
here
.