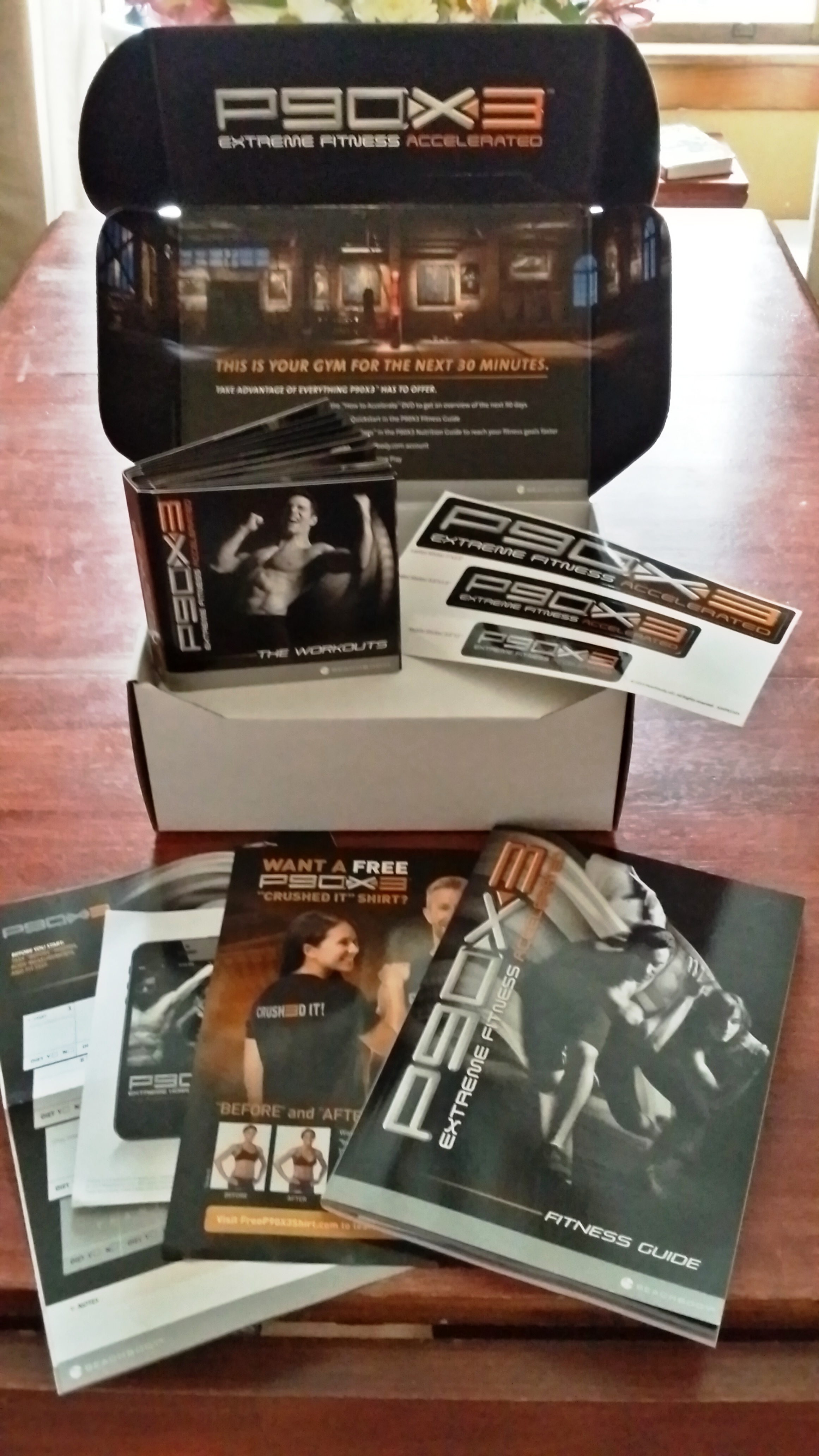 P90X3 arrived on my doorstep yesterday afternoon! Needless to say, I am very excited. Given my previous experience with P90X and the amazing results I got from that program, I am very anxious to start this program with my next challenge group. I took the opportunity to open it up, try on my FREE P90X3 hat which was only available to those who bought during December, and fire up a few of the DVDs.
The first thing I did was put in the into DVD, How to Accelerate. Tony talks about what you will experience, the importance of various things during the process, what you will need, and how the nutrition plan works. I am happy to announce that the nutrition plan, like he said it would be, seems very flexible to any style of eating.
The equipment needed for P90X3 is very flexible. The most important piece is going to be your body and your floor. The most basic equipment would be resistance bands and a door frame. If you are able to kick it up a notch, Tony recommends 5-20 pounds for women and 5-50 for men. it really depends on your needs and level of fitness. When I started, I bought a pair of 10, 15, and 25 for my wife and I to share. I upgraded to a pair of 35 pound dumbbells quickly and never took the time to invest in anything above that until now. Luckly, I purchased a set of Power Blocks which give me 2.5 – 90 pounds of weight to use. I would highly recommend a pair for anyone working out. They have smaller sets. The other thing that Tony recommends is a pull up bar and if needed a chin up max band to help assist in the pull ups. You can get away with a chair instead and that is all discussed in the intro DVD.
I have been watching the various programs and got to try out the X3 Yoga this morning. The workouts have the same fun and humor that Tony has always had. That is a nice help when working out. If you ever tried P90X Yoga you would know it was 90 minutes. Yes, I said it, 90! Well, fitting to the focus of P90X3, X3 Yoga is ONLY 30 MINUTES! It was a great experience and I learned that I have a lot of room for improvement and I consider myself to be in pretty good shape. So if you are just starting out, or in great shape, this program can and will challenge you. There is a modifier for every move that allows it. For the X1 fans, Dreya is back and is the modifier for at least one of the DVDs so far. So for returning X fans, this will feel like your at home. The best part is you will be getting the same Xtreme workout in only 30 minutes. The only workout that is not a 30 minute workout would be the X3 Ab Ripper which is only included if you purchase the "Elite DVD" set. it is not a requirement, but it will help you step it up when you are looking for a little more.
If you want to join Team TCB, contact me and then grab the challenge pack from the link below. You will not regret the decision to do so.
If you want to know more about P90X3 and what each kit includes, click the link below or head over to this page to read more about it right here on my site.
P90X3 BASE KIT:
http://www.teambeachbody.com/shop/-/shopping/X3Base?referringRepId=304165
P90X3 DELUXE KIT:
http://www.teambeachbody.com/shop/-/shopping/X3Deluxe?referringRepId=304165
P90X3 ULTIMATE KIT:
http://www.teambeachbody.com/shop/-/shopping/X3Ultimate?referringRepId=304165
P90X3 ELITE DVDS:
http://www.teambeachbody.com/shop/-/shopping/X3EliteDVD?referringRepId=304165
P90X3 CHALLENGE PACK:
http://www.teambeachbody.com/shop/-/shopping/BCPX3205?referringRepId=304165